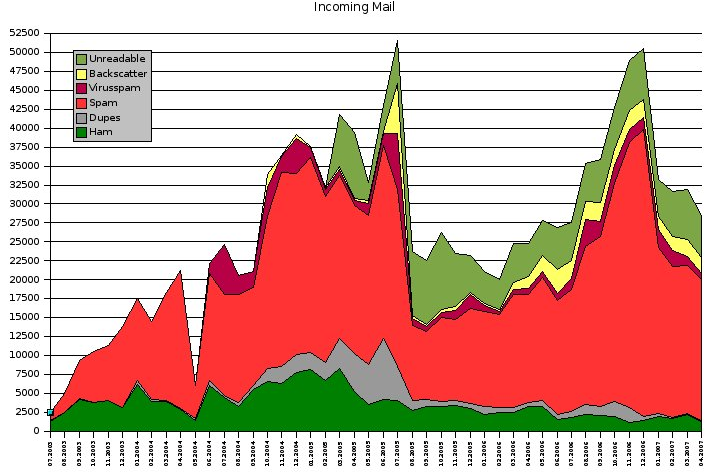 you see my Spamstats for the time i run an own server for my domain.
The input consists mainly from cord@Wunder-Nett.org that is in existence since mid-1996, and a (tuned) catch all on cord.de.
Unreadable is the stuff encoded as russian, chinese, korean, ...
Backscatter are Bounces due to misused Mailadresses.
Virusspam is the stuff ClamAV catches.
Spam is recognized by bogofilter
Dupes were Mails with the same Message-Id in a short time period.
Ham are those messages that survived the other filters.
In 05/2004 i had a big downtime due to broken Harddisk and/or cheap IDE-Cables (which was finally solved in 2006).
In 11/2004 i became Debian-Listmaster, and forwarded the listmaster-mails to my system.
In 08/2005 i stopped forwarding listmaster-Mail and the admin-mail from LUG-OWL and let them drop into a local Mailbox on the specific servers.
In 06/2006 The power supply of my server died, and HaJo had a fitting spare device, so i took it to the local hardware gods (C&M sorry, only Flash) and they implanted it, they also replaced all Fans (6 of which 4 were stuck) and replaced the IDE-Cables. Now i even could switch on DMA without risking a crash. (Man, 3years of crippled server). As you see, the system is now able to accept even more spam.
In 12/2006 i added greylisting on my server. My 2nd MX currently doesn't do greylisting.
Management-summary: With massive filtering i can keep mail somewhat useable for me.